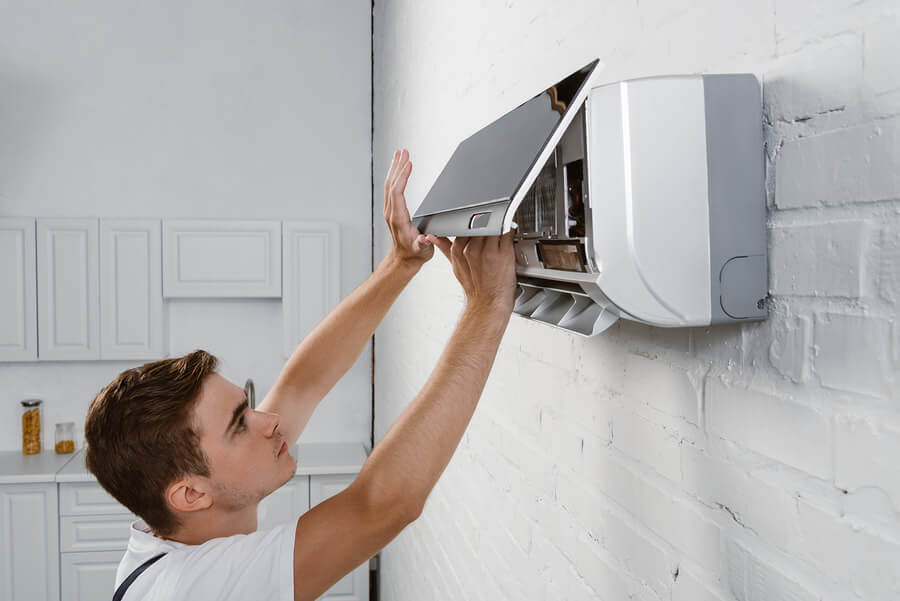 Ductless services are those that typically include localized heating and air conditioning units that don't require the air traveling through the ducts to emit through the vents. Ductless services are usually in the form of window unit air conditioners that are controlled manually and are usually only able to cool one location at a time. Because the air is localized, it does not readily travel throughout the home, and therefore, you may require several units in order to cool multiple rooms.
 
Ductless System Maintenance
Ductless system maintenance refers to any configurations or repairs that your air conditioning unit may need. We often assist clients and reconfiguring their control panel so that they can better operate their ductless unit, as they might find that it is not emitting air properly or not at the desired temperature. We can also assist with repairing, replacing, or cleaning the filter, as the single unit will accumulate large amounts of dust and debris in the filter that can get redistributed into the air when turned on.
 
Leaks
If you have a leak in your localized unit, this is often the result of faulty hoses or an overflowing filter. If your filter is not changed often or regularly or accumulates too much dust and debris, it can lead to your localized unit leaking from the bottom and creating discoloration on your walls and damages to your floor. We offer our professional services to repair any leaks that are present in your ductless system. Although your unit may not be leaking continuously, it will often leak every time you attempt to turn it on or have it on for an extended period of time. The longer it is able to leak, the more damaging it will be to your home.
 
Upgrades
If you currently have a ductless system that you would like upgraded, we can assist in removing it and replacing it with a central air system. This is done by dismantling the ductless unit and resealing the location where it was installed. We'll then have to drill into your home's interiors to install the new ducts and make way for your central air unit. New vents will have to be installed to carry air throughout your home's interiors. However, upgrading to a central air system can add better temperature control and value to your home in the long run.
 
Costs
As with all of our professional services, we offer affordable solutions even if you have ductless systems that require some maintenance. We make our services budget-friendly and easily accessible for all those that have central air and ductless systems, so you can have a professional HVAC technician that you can rely on. If you have a particular budget in mind or would like to assess the cost of your ductless services beforehand, be sure to fill in our contact form for a free quote or give us a call and let us know your concerns, and we would be happy to work with you and your desired budget.